TUNING, MAINTENANCE AND YEARLY SERVICE
Any pipe organ needs to be tuned and checked at least twice per year.  We offer charge-by-hour service or our Yearly Service Contract. Our Yearly Service Contract covers tunin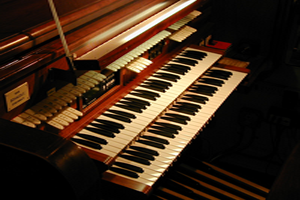 g and minor adjustments and repairs, with two, three or four routine visits per year.  With our Yearly Service Contract, customers pay less per visit than by the charge-by-hour method, and they receive priority at special times of the year such as Easter and Christmas.
REPAIRS
We perform all repairs on all brands of pipe organs.  We are available for urgent and emergency visits.  We also perform various extra services that are often needed.  These include many operations such as console/pedalboard removal for carpet installation, relocation of portions of an organ, cosmetic items such as refurbishing and painting of façade pipes, refinishing, and others.
ADDITIONS
The installation of one or more new ranks of pipes, to enhance and expand the tonal resources of an existing organ.
REBUILDING AND RENOVATION
We specialize in the mechanical and tonal operations that are often needed for an older pipe organ, to insure lasting mechanical dependability and to update tonal versatility.  An organ can be completely rebuilt all at once or in stages.
NEW ORGANS
We are equipped to build a new organ from the ground up, or by using portions of an existing instrument.  Many new pipe organs in all parts of the world are constructed using worthy pipework and mechanisms from a previous organ.
SOLID-STATE SYSTEMS
Many pipe organs contain elaborate low-voltage switching systems.  These systems originally contained thousands of electrical contacts, pneumatic mechanisms and moving parts that eventually wear and become troublesome.  The solution is the installation of modern solid-state systems that contain no moving parts and never need new leather.
The solid-state switching system lasts virtually forever if not damaged by incidents such as flooding and similar disaster.  The solid-state system can be installed as part of the complete rebuild of an organ, or as a separate item.  It can be designed to operate the basic relay functions such as keys, pedals, stops and couplers, and/or accessories such as the preset pistons and reversibles.
DIGITAL INSTRUMENT INTERFACING
There are many options for a new pipe organ and for the renovation of an older one.  An option that is appropriate in some cases is the installation of a new digital organ and its interfacing (electrical connection) with the pipes from an existing pipe organ or with an array of new pipes.  This results in a hybrid instrument -- a digital organ that plays its own voices plus the pipes, with utmost versatility.
MIDI SYSTEMS   (Musical Instrument Digital Interface)
The MIDI system is an invaluable addition to any pipe organ for those who favor digital voice additions and music editing and playback.  The possibilities are endless.  The MIDI system was developed in the 1980s as a digital means for musical instruments to communicate with each other and with computers.  To many musicians, this can seem overwhelming and too technical, but the advantages of the system are entirely worthwhile.  The MIDI system makes possible the addition of new voices (stops) to an organ.  The number of new voices can be small or large.  The types of voices range from traditional pipe organ stops to orchestral instruments, and more.  The MIDI voices are tuned to the pipes in the organ, and the MIDI voices and pipes can be played together or separately.  The MIDI voices are a supplement to the pipes.  They can be of tremendous value for the expansion of the tonal resources of small and medium-sized pipe organs, and they can be helpful in specific playing situations, such as providing in-tune reed voices at times when the reed pipes are not in good tune.
For the organist who favors the use of chimes, the MIDI system can provide voices such as chimes and bells that are always in tune with the pipes.
Besides the addition of new voices, the MIDI system provides the auto-play capability of a pipe organ.  MIDI "files" are songs or other musical selections in the form of "data".  These files can be edited in many ways to match the resources of a given pipe organ, and to yield musical arrangements as desired by the organist.  MIDI files can even be downloaded from the Internet, shared, and exchanged.
The size and capability of the MIDI system can be designed according to the customer's budget.
CONSULTATION

We happily provide free consultation and suggestions for your pipe organ.